OUR ACTIONS TOWARDS
SUSTAINABLE DEVELOPMENT ARE
Continuous research and application of new technologies
Regular updates of existing automation systems
Development and implementation of new systems that can work both separately and as part of an integrated infrastructure
Regular upgrade and modernization of technical equipment used by employees of the organization
Development of our products and their support through LiteMS system, which is specially designed to maintain workflow and relations with our customers.
Compliance of the organization with international standards
ABOUT US
EVERY DETAIL MATTERS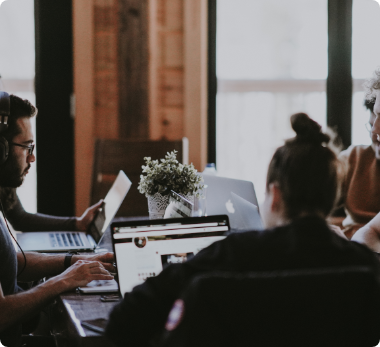 Our team
We are a group of young professionals full of energy and vivid imagination, who are in constant creative quest.
Our mission
To provide organizations with automation solutions that will realize all, even the most challenging ideas, and at the same time contribute to the development and improvement of business processes. Sustainable business development is the most important warranty of long-term existence of an organization in a competitive market.
OUR STRATEGY,
OUR VALUES
We have a clear strategy based on the following basic principles
- Continuous improvement of the quality of our services
- Maintaining high level of customer satisfaction
- Saving time: the most valuable resource of customers
- Instantly providing high quality and affordable services
- Proposition and implementation of bold solutions
Our team is inherent in
- Professionalism
- Open style of work
- Creative approach
- Analytical skills
- Regular trainings and self improvement
Our values
- Trust in our team and customers
- Diligence
- Saving customer time
- Sustainable business development
OUR
GOALS
Become a leader in the development of information systems in the field of finance both on the local and international markets

Change stereotypes and views on the role and importance of information technology in the financial industry
OUR
PRODUCTS
The system is intended for complex automation of the business processes of the insurance company. It helps to increase the competitiveness of the organization, significantly reduce the loss of the most crucial resource - time, improve the quality of customer service and perform effective sales. One of the main advantages is that accounting and financial calculations are automated.
More
The system is a modern software solution designed to automate online banking business processes, allowing anyone with access to the Internet to access banking operations anywhere, anytime, 24/7. The software solution is used both for mobile banking and for the automation of Internet banking for both individuals and legal entities.
More